Mold, especially if left untreated, can lead to health problems and costly damage to buildings. Treating not only the mold itself, but also the cause is the only way to successfully combat mold long-term. At Remediation Mold Solutions, we offer safe and effective mold removal near Wilmington and the surrounding area.
What to Do if You Discover Mold
Finding the cause of the mold is a priority. Poorly ventilated bathrooms, wet basements, or damp crawlspaces are places where mold frequently grows. All mold remediation requires immediate action, especially a slow leak that has gone undiscovered for a long period. Remember, mold only needs a couple of days to start growing and cause havoc. Plumbing failures or a flood that was not properly treated can all be the culprit. Call Remediation Mold Solutions for a thorough mold inspection near Wilmington.
Why It's Important to Treat the Cause
It's important to have an area professionally cleaned if mold is found, but without getting to the root of the problem, it's likely to reoccur. Any water damaged areas must be thoroughly dried and any moisture problem must be corrected. Poorly ventilated areas need proper airflow to prevent mold from reaccumulating.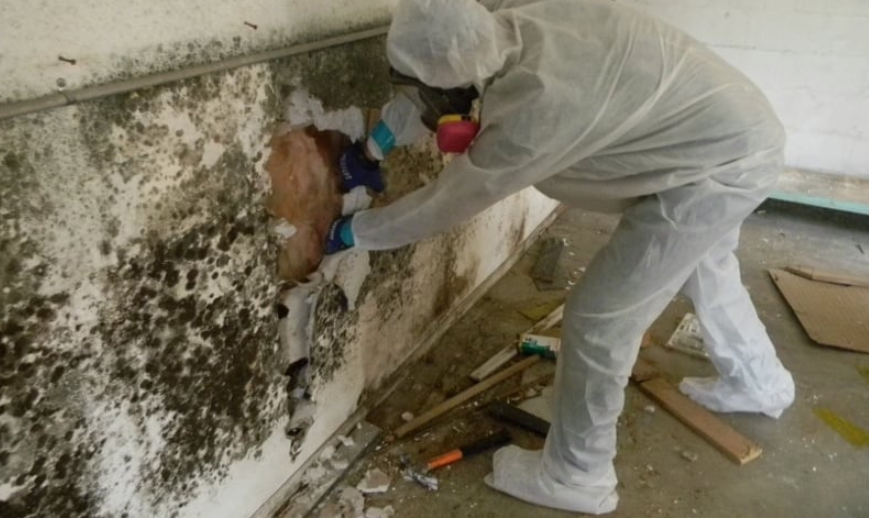 Professional Mold Removal Near Wilmington
At Remediation Mold Solutions, we act fast to keep you and your family safe from the health effects and high costs of a mold infestation. Prevention is key to save you time and money. One form of prevention is a mold inspection. We offer mold inspection near Wilmington as well as professional air quality testing. The mold inspection begins with a thorough check of areas where mold is prevalent such as a crawl space, wall, ceiling, ductwork, and other spaces. Because airborne mold spores are not visible to the naked eye, air testing is required to determine the severity of the infestation and potential remediation methods.
We offer both non-invasive and invasive remediation services depending on the severity of contamination. Non-invasive treatment consists of HEPA vacuuming, sanding, surface wiping, and HEPA air filtering. These effective methods save the contaminated structure materials from extensive damage and repairs. This includes use on wood, glossy painted wood, ceramics, metals, glass, and more.
Invasive remediation is done in the case of a more severe mold infestation. Mold can penetrate walls and grow inside wall cavities, causing irrevocable damage. Because these materials cannot be decontaminated, they must be removed and replaced. These repairs usually follow flooding or long-term undetected leaks from pipes or faucets.
If you are in need of mold removal services in Brunswick County, give our team a call for a free consultation!