Mold causes substantial structural damage and serious health problems if left uncontested. Mold and mildew spread rapidly, especially in humid areas like Oak Island. A long-lasting, effective mold treatment performed by experienced, professional mold removal experts guarantees a structurally sound building and a healthy family. Remediation Solutions brings over 35 years of combined mold prevention and removal experience to the Oak Island community.
Mold Consultation from Professionals
If you suspect mold damage, you're likely right. Mold excels at finding organic material to feed upon to cause an infection. If your home or office has poor air quality, mold is always one of the first suspects. Mold can cause allergic reactions, congestion, coughing, and even respiratory infections.
Remediation Solutions is dedicated to providing you with a fast response and an initial mold inspection that takes less than an hour at most properties. We'll draft a concise, highly-detailed report that diagrams your building and pinpoints conditions optimal for mold growth. We'll also provide a course of action for swift prevention and remediation.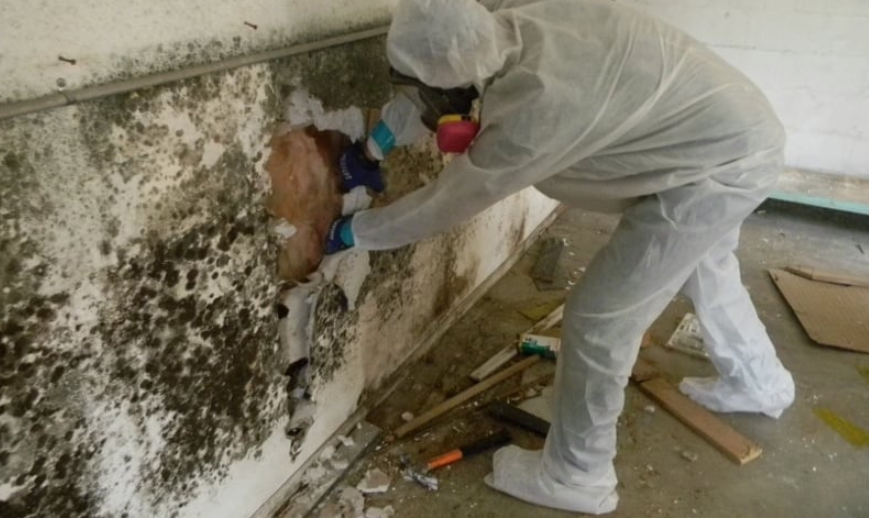 Expert Mold Removal
Remediation Solutions provides industry best methods for putting an end to your mold problem. Our experienced technicians consider the type of mold present in your home or business, the materials colonized with mold, and the degree of infestation to formulate a plan for fast results. Many problems can be solved through non-invasive remediation which does not require construction efforts. This means a thorough cleaning and decontamination process combined with effective moisture control.
HEPA (High-Efficiency Particulate Air) vacuuming and HEPA air filtering are important parts of the remediation process.  Special equipment is used to capture and remove mold spores. HEPA filtering systems are then used to increase interior air-quality. Remediation Solutions also provides Oak Island's best-wet washing, wire brushing, and sanding services. These techniques break up mold, remove embedded spores, and kill and remove the growth. For flood damage and seepage, invasive remediation is often necessary. This process involves removing and replacing structures to remediate damaged areas.
Future Mold Prevention
Prevention can save you a substantial amount of money. Practical methods for keeping humidity to reasonable levels in your home or business are crucial to prevention. These include effective air conditioning, dehumidifiers, and proper ventilation. Remediation Solutions provides various preventative services like Air Leak testing, Plumbing Leak testing, and Ventilation Leak testing. These tests look for proper sealing, plumbing issues, and inadequate ventilation systems and then provide a plan of action to prevent mold growth.
Don't let mold damage your property and compromise your health. Call Remediation Services today for a free estimate. When mold is the problem, we are the solution.